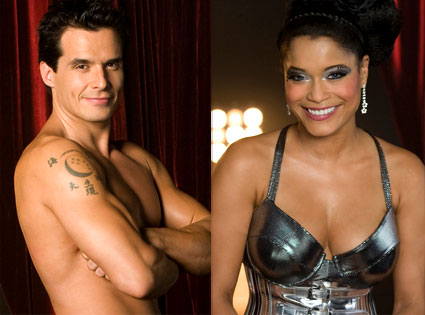 According to E!Online singer Blu Cantrell (a.k.a. Blu Can'tSell) has snagged herself a new man and possibly a future cover of
Playboy
magazine. Sources claim Cantrell and former Calvin Klein underwear model and soap opera stud Antonio Sabato Jr. are more than just clowning around on NBC's newest competition show
Celebrity Circus
. "They've been getting close and hanging out after rehearsals," said the insider. "Antonio seems smitten with her."
Celebrity Circus
, which premiered Wednesday night, pits a group of celebs against one another as they try to perform crazy-ass stunts, including high-wire walking, fire dancing and doing acrobatics in the wheel of death.
And we may soon get a look at what Sabato Jr., 36, may be seeing these days. Cantrell, 31, recently shot a spread for
Playboy
after dropping upwards of 25 pounds since she began training for Circus. Sabato Jr.'s rep didn't comment on the possible romance, but said, "We do know that all of those competitors have become such a tight-knit and close family." However, a rep for Cantrell said of the two, "They are having fun right now."
CONTINUE READING THIS STORY AFTER THE JUMP!
Other

Celebrity Circus

contestants include

Brady Bunch

star Christopher Knight, Olympian Janet Evans, Jason "Wee Man" Acuña, Rachel Hunter and

Clueless

actress Stacey Dash who recently broke three of her ribs climbing "The Silks," a length of fabric suspended 30 feet in the air.