ATLANTA, Georgia – The House of Usher is changing hands. R&B superstar Usher is selling his Atlanta-area home, reports the
Atlanta Journal-Constitution
. The five-bedroom, four-bathroom home inside Atlanta's Country Club of the South gated community is being listed for $1.9 million. "This house has a lot of musical history," says Lisa Robinson, the real-estate agent for the property, which also contains a
hair salon
,
exercise room
,
swimming pool
,
guesthouse
and, naturally, a
recording studio
. "[Usher] upgraded the master suite, and totally redesigned and renovated the terrace level," Robinson tells PEOPLE. "That level has [the] hair salon, a gym and a
state-of-the-art movie theater
."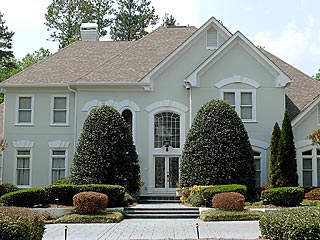 The next owner of the home will be stepping in to quite a musical lineage. Usher originally bought the property from DefJam CEO Antonio "LA" Reid, who once operated his LaFace Records label from the home, with artists including Jermaine Dupri, Dallas Austin and TLC using the studio. The house was also on MTV's
Cribs
and once inspired the 13-year-old Usher to declare he would one day live there, Reid told the
Journal-Constitution
.
After selling the house to Usher, Reid moved to New York's Hamptons, where Usher's original wedding to Tameka Foster was to take place in July. Perhaps Usher feels he needs more room, now that he's a married man about to welcome a child. Usher and Foster tied the knot in a private ceremony on August 3, followed by a larger reception for about 200 friends and family on September 1. The couple announced their engagement earlier this year and later said Foster was expecting Usher's first child. She has three children from a previous marriage.

It remains to be seen where Usher will set up residence with his new wife and baby, which is due this fall. But "they're planning to stay in Atlanta," Robinson tells PEOPLE.