Damn,
Kimora
! According to the
New York Post's Page Six
column,
Kimora
Lee Simmons overcharged Macy's for her beauty products and then refused to pay back the extra profit, according to a lawsuit filed last week in Manhattan Supreme Court. In September 2006, four months after Simmons separated from her multimillionaire husband, Def Jam Records co-founder Russell Simmons, she signed an agreement to provide Macy's with her line of cosmetics. But then she allegedly jacked up the price of her beauty products.

Simmons declined comment.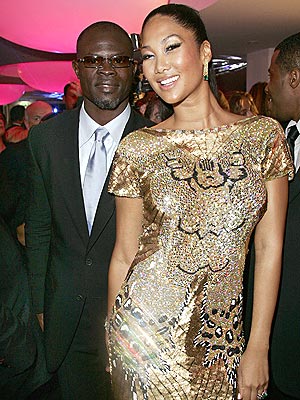 Rap mogul Russell Simmons' estranged wife
Kimora
Lee and mother of his two daughters is asking Santa for a special present this Christmas--
another baby with her new man, model-turned-actor

Djimon

Hounsou

--and she hopes to have a bun baking in her maternal oven before her divorce is finalized from Russell.
Ain't she bolder than a mug?!
Anywhoo
, when
Kimora
chatted with a camera crew the other day at St. Vincent Hospital, where she brought daughters Ming Lee and
Aoki
Lee
to visit sick children and spread holiday cheer.
A source tells New York gossip column
PageSix
,
"They brought gifts and read stories and played. When she was asked what's on her Christmas list, Lee responded, 'A baby!'"
Kimora
and
Djimon
have been dating since the
statuesque
fashion mogul ended her eight-year marriage to Simmons in 2006.
The former
Kimora
Lee, whose father is African-American and mother is Japanese-American, was a model, for Chanel and others, when she began dating Simmons, a
cofounder
of Def Jam Records. The pair met in November 1992 during New York City's Fashion Week. She was 17 and about to finish high school; he was 35 and a self-admitted ladies man. Six years later, Russell, 48, and
Kimora
, 30 were married by Simmons's brother, Pentecostal minister and rapper Joey "Reverend Run" Simmons of Run
DMC
, on the Caribbean island of St. Bart's on Dec. 20, 1998.
Meanwhile, reality TV has become more phony by the minute. In a recent installment of
Kimora's
Style network reality show,
Life in the Fab Lane
, Simmons
appears
to pony up $15 million for a gigantic mansion with a glittering view high in the Hollywood Hills. Don't buy it. The
blinged
-out bi-racial babe did not buy the house on the show. And a little research of public property records reveals that the newly single mother of two actually paid far less for the house she actually bought than her vanity show would would have you believe.
CHECK OUT PICS OF THE REAL HOUSE

KIMORA

PURCHASED AFTER THE JUMP!
In reality, Simmons paid $5.9 million for a 5,923 square foot Tudor style house in the Beverly Hills Post Office with seven bedrooms, eight and a half bathrooms, and no view to speak of. In a delightful twist of irony, her new next door neighbor is none other than former reality star Jessica Simpson.
Note to
Kimora
: Check your rear view. You're struggling star power is causing congestion in the Fab lane.