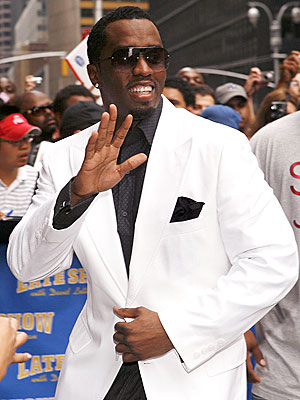 Sean 'Diddy' Combs recently announced that he will be honored with a star on Hollywood's Walk of Fame next year. Diddy revealed the news during a call in on Jamie Foxx's Sirius radio show, The Foxxhole, on Friday (December 21). According to the Bad Boy mogul, his ceremony will take place on January 11th.
"I'm from Harlem New York, so to get a star in Hollywood is just mind-blowing," Diddy said. "You can get a lot of things but when you see those stars on the ground...that's something I can't even say I dreamed of and to be getting recognized for it is definitely something I'm gonna have my whole family out there for,"
Diddy will be joining good company. Recently, Will Smith was added to Walk Of Fame and rapper turned actress Queen Latifah earned her star in 2006.
Uh, how is this a surprise when he had to pay for his star? To those of you who aren't aware: any celebrity who is 'honored' by 'receiving' a star on the Hollywood Walk of Fame must first submit a request to do so. Not only that, but they also have to pay $25,000 (which is milk money to the majority of them) of their own money in order to 'receive' a star. There's no member in the Hollywood Chamber of Commerce who stands up at a board meeting and says, 'Here, here, uh, well I propose we give such and such star this time next year. He/she has done a lot of great things...yada, yada, yada..' No. It's up to the celebrities and/or the folks who work for them to say, 'Well, I consider myself good enough to have my own star on the Hollywood Walk of Fame. I have 25 grand to pay for it. Why not?' Then, if the Hollywood Chamber of Commerce agrees...
Don't believe me?
AFTER THE JUMP
, take a look at an excerpt from the Hollywood Chamber of Commerce in regards to receiving a star.
Surprised and honored my ass.
CRITERIA FOR STAR ON THE WALK OF FAME.



1. Professional achievement
2. Longevity of five years in the field of entertainment
3. Contributions to the community
4. The recipient must agree to attend the dedication ceremony.
5. In case of a fan nomination, a letter of agreement must be sent by celebrity management.
6. There is a five-year waiting period after death for nominations of deceased individuals. The Committee does not necessarily select posthumous honorees each year.

--The Hollywood Chamber of Commerce makes every effort to schedule a dedication ceremony on the date requested by the honoree. A 60-day lead period is needed for required permits, the manufacturing of the star, and advance publicity.



--Please be advised that if your nominee is selected and the induction does not take place within five years of the selection date, the nominee must be re-submitted during another voting period.





--The sponsorship fee is $25,000
SOURCE: Hollywood Chamber of Commerce