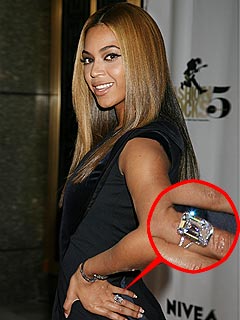 Jay-Z has let it be known that he don't play when it comes to icing up the hottest chick in the game. But was there every any doubt? All eyes were on Beyoncé Friday night, when, for the first time, the singer publicly displayed her wedding ring on the red carpet for Fashion Rocks at Radio City Music Hall in N.Y.C. The singer, 27, who secretly married rapper Jay-Z in April, flashed an
18
carat flawless diamond by Lorraine Schwartz, valued at more than $5 million dollars, according to the jeweler. Neither Beyoncé nor Jay-Z have publicly confirmed their marriage but in recent weeks, Beyoncé's younger sister Solange referred to Jay-Z as her brother-in-law during a television interview. Later in the evening, Beyoncé took off the ring for a duet with Justin Timberlake (WATCH THE CLIP
HERE)
, but the sparkler was visible when she donned a short, blonde wig to sing a tribute to blues singer Etta James whom she portrays in an upcoming movie (WATCH CLIP OF BEYONCE SINGING 'AT LAST' BY CLICKING
HERE
).
The 5th annual Fashion Rocks concert will air Tuesday, September 9th on CBS at 9 pm.
In more Beyonce news, the singer says she is so 'over being a pop star' and now feels it's time for everyone to consider her as an 'icon' in the music industry. She tells
Marie Claire
magazine, "I'm over being a pop star. I don't want to be a hot girl. I want to be iconic. And I feel like I've accomplished a lot. I feel like I'm highly respected, which is more important than any award or any amount of records. And I feel like there comes a point when being a pop star is not enough....I now think I'm opening doors for more black women, just like Halle Berry and Diana Ross opened doors for me." And the usually humble singer feels sure her role -Etta James in
Cadillac Records
will be the part that will help her really show off her talents. "I've been saying for a long time that I wanted to do something dark. People are going to be very shocked. It's the complete opposite of me. It was very emotionally draining. I was exhausted."
In the meantime, check out pictures of Beyonce at Fashion Rocks.