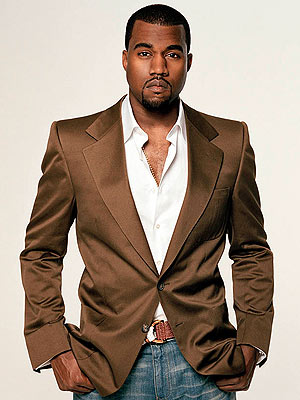 So Mr. Chipmunk considers he & Justin to be the modern day Prince and Michael Jackson, huh? Well, he said it, I didn't. Bless his heart.

During Kanye West's gig Monday night in London, the rapper dedicated his song Big Brother to Jay-Z, explaining that the mogul was the reason he made music and because of this he was able to buy his mother a house. The intimate show at Westminster Central Hall had an audience of about 500, all of whom were greeted by workers wearing graduation gowns and mortar boards in honor of his album Graduation, due Sept. 11.

In related news, West is in the midst of a friendly rivalry with 50 Cent, whose album Curtis also comes out on Sept. 11. But in the October issue of XXL, the rapper-producer says he looks to a certain crossover pop star as the artist to beat in the music industry. My biggest inspiration and biggest competition is Justin Timberlake," the 29-year-old artist tells the magazine, on newsstands Sept. 11. "He's the only other person that gets an across-the-board response and respect level — black radio, white radio. If Justin hadn't come out and killed the game, I can't say that my album, singles and videos would be on the same level that they're on," he says. "We push each other. I look at me and Justin like Prince and Michael Jackson in their day."

Earlier this month, 50 Cent promised to quit his solo career if his album is outsold by West's Graduation. West, a six-time Grammy winner, tells XXL that he's "never cared about being No. 1." He feels it's more important that his music connects with people. "I feel like my lyrics are, if not THE, then equal to, the realest lyrics out," he says. "I connected with so many people without talkin' about guns and drugs. ... It's harder to go to work 365 days than shoot a person in one day." Further, "there's nothing about wearing a pink Polo that would make anyone believe that I would hold a gun," he says.