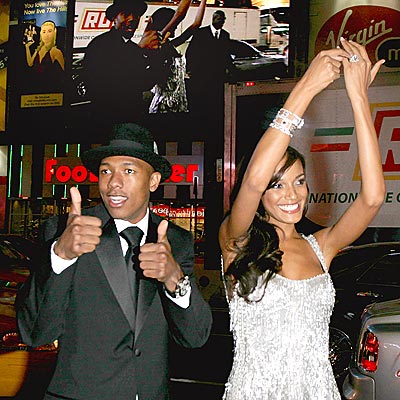 Nick Cannon is engaged, but he's in no hurry to get married just yet. "I did my part!" Cannon told PEOPLE Tuesday night at Ecko's 5th annual "Tikva Drive for Life," a charity golf event to support orphaned and abandoned children in the Ukraine. "You did what you had to do ... you made the commitment. Now it's like, let's just enjoy this for right now." The Drumline actor – who used a jumbotron in Times Square and a horse-drawn carriage in his marriage proposal to Victoria's Secret model Selita Ebanks last May – says they haven't set a date or a place for the ceremony. "We haven't really talked about a lot of that stuff. You've got to take it slow," he says.

Cannon – who is gearing up to host the Teen Choice Awards with Hilary Duff on August 26 – is a fan of the long engagement because, "you get to know people." "It's that preparation time to see if this is what you really want," the comedian/actor said at the Tuesday night event, held at Chelsea Piers in Manhattan.

A friend of Nicole Richie and Joel Madden, Cannon also weighed in on the couple's pregnancy: "She had good parenting, so she'll know how to get it going." What kind of dad will Joel be? "He'll be a cool dad. The coolest dad. Any rock 'n' roll dad is a cool dad."
Yeah Nick, uhn-hunh, alright son. Whatever you say, dude.