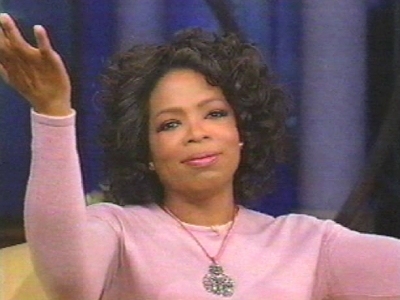 According to the
New York Post's Page Six
report, Oprah Winfrey may employ lots of hard workers, but staffers at Harpo Inc. are bitching, moaning and grumbling over the star's production company allowing one well-connected assistant to rake in as $65,000 in overtime pay within a 16-week period. This would mean the woman, Carla Bird, would have worked 18.5 hours a day, Monday through Friday, the
New York Post
calculated. Several weeks ago, it was discovered by accounting and human resources," a source told the newspaper. "Most employees would have been walked right out the door. Well, that's just not the case for good ol' 'Birdie.'" Bird, an assistant to Winfrey's co-executive producer Lisa Erspamer,
filed for 800 hours of overtime from January through April of this year. Even if Bird had worked seven-day weeks for the three months (despite Harpo employees having the first week of January off), she would average just under 12.5 hours a day.
Lisa Halliday, chief of communications at Harpo, said Bird's overtime claims are accurate. "Many of our employees contribute significant hours of overtime during our production season. This is quite common within the television industry," she told
Page Six
. "From January to April 2007, this employee legitimately accumulated approximately 800 hours of overtime."
Asked if she were indeed getting special favors from Harpo, Bird told the publication: "I'm not allowed to comment. Thank you."
In related news
, just when you thought Oprah had done it all...she surprises you with something often better than the last time.
According to Winfrey's spokespeople, the mass media mogul has started construction on her new store in Chicago. Winfrey makes her mark in retail with the store, which will be within walking distance of Harpo's Studios on the city's Near West Side. The business is expected to draw tourists and audience members who attend tapings and who will likely head to the store afterward. Now, is that a great marketing strategy or what?!
The one-story, 4,500-square foot building will sale merchandise similar to to Winfrey's Web site, www.oprah.com, including t-shirts, bags and baby apparel. The date of the opening of the store is still up in the air and according to Winfrey's spokespeople, plans are still underway.