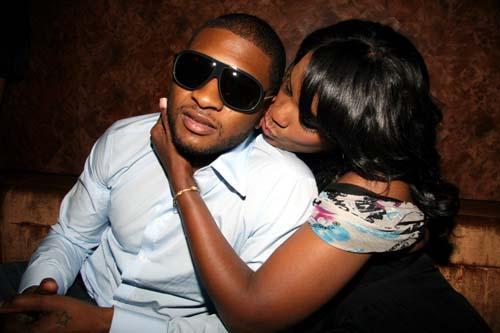 Usher and his wife, Tameka Foster, welcomed a baby boy on Monday night, multiple sources tell PEOPLE. While reps for Usher and Foster were not immediately available for comment, one source says Usher was with his wife and new child Tuesday at an Atlanta hospital, and the family is expected to head home on Wednesday.
According to Sandra Rose at sandrarosenews.blogspot.com, Big Daddy himself phoned Atlanta radio host, Ryan Cameron on Tuesday to confirm his new status as a proud Poppa as well as details of his firstborn son and namesake's birth. At around 10 pm on Monday night, Usher Raymond V entered this world weighing in at 7 lbs, 9 oz.; with a height of 21.5 inches. Usher, who assisted Tameka with the delivery said, "I did it all, I did what I had to do." The multi-platinum artist also said he and his wife are 'going back and forth' in choosing a middle name for their bundle of joy.
Usher, 29, and Foster, 36, announced the pregnancy in June. In September, Usher told PEOPLE that they were expecting a boy, and added, "I just want my son to fully be coherent and to be healthy, first and foremost."
The couple were married in a quiet civil ceremony in Atlanta on Sept. 1.
Source:
People.com
Now yall know an Usher post on
RealGossip 101
would not be complete without a little clowning on my part, therefore and thus and such, don't trip! LOL!
If Usher's baby boy is as cute and adorable as his poppa
once
was in the to the left, I feel sorry for Meka's other sons. Let Adele Givens tell it, kids who women have by a celebrity receive loads of special treatment than her other kids whose father just happens to be a regular Joe. That celeb kid's wants and needs is gonna trump his siblings wants and needs almost everytime.
I can hear Tameka screaming to her other kids,
"Yall shut yall lil asses up ...except for you Usher the fifth; you talk all you want to and you can have some ice cream too..yes, Usher the fifth we can go to Disneyland in the morning. And HELL NAW the rest of yall can't go...yall gon care yall lil asses to school! So, shut the fuck up and go to bed!"
Quote Source:
Queens of Comedy comedienne Adele Givens.
...END POST...