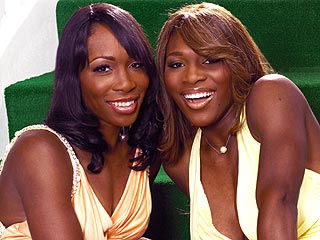 They may have had to take sides on the court during the recent 2008 Wimbledon Championships, but tennis stars and Jehovah's Witnesses Venus and Serena Williams must remain neutral when it comes to politics. "I'm a Jehovah's Witness, so I don't get involved in politics. We stay neutral. We don't vote," Serena says. However, she did admit she is happy about Senator Barack Obama's success thus far and she says she should vote for him "if it wasn't for my religion." Sister Venus says what she does in tennis and when she helps people through UNESCO and other agencies "isn't really political." Jehovah's Witnesses do not swear allegiance to an organization or nation, cannot join the armed forces, run for political office or vote. Hmph, you learn something new everyday.
CONTINUE READING THIS STORY BY CLICKING 'READ MORE AFTER THE JUMP!'
In related news, the Williams sisters put Wimbledon in a headlock over the weekend (7.5.2008), with Venus winning the women's singles title over her sister Serena 7-5, 6-4, and both siblings teaming about 3 1/2 hours later to win the doubles championship. "We've both worked really hard this year, and I think the results showed here, both in the singles and the doubles," Venus said after winning the Wimbledon singles title for the fifth time. This is Venus' fifth title at Wimbledon's All England Club, while Serena was looking for her third after wins in 2002 and 2003. "I can't believe it is five because when you are in the final against Serena Williams five seems so far away," Venus said during her post-match interview. "It's unbelievable especially with some of the injuries I have gone through. I love this place." Including the prize money awarded to the singles champion and runner-up, along with what they earned for the doubles championship, the Williams family netted more than $2.5 million Saturday, according to the Associated Press.